Emma Grace Clonan graduates from the International Baccalaureate Program at Oakland High School in Murfreesboro, Tennessee this spring, but the young golfer has even bigger plans. 
She made history last month as the first Play Like a Girl alumna to sign a letter of intent to continue her athletic career while pursuing a degree in STEM (science, technology, engineering and mathematics) next year at Maryville College in the Great Smoky Mountains.
"Knowing what you want and going for it takes courage, but it is so worth it to reach for the stars," Clonan said at the 3rd annual Women's Leadership Summit, a women's empowerment event commemorating Women's History Month.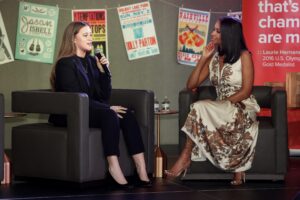 See more of Emma and the event here.
The aspiring neuroscientist shared her aspirations during a keynote conversation with television sports reporter, Samaria Terry, at GEODIS Park — home to Major League Soccer's Nashville SC which hosted the event as part of its International Women's Day celebration. 
Emma also received the 2023 Play Like a Girl Honors award for her scholarship, service, sportspersonship, and spirit. Emma told the crowd that she wants to continue to inspire other girls and young women.
For the past 15 years, Play Like a Girl has recognized amazing individuals including the legendary Louisiana State University women's basketball coach Kim Mulkey and 2017 US Open finalist Madison Keys, who are making a difference in our mission to level the playing field for girls and women.

Each honoree receives a personalized, hand-carved award crafted using sustainable wood that won't harm the environment. Details describing the honoree's exceptional contributions are etched into the wood. On one side, a quote or personal characteristic that embodies their mission. On the other side, the Play Like a Girl mission is included as a reminder of the honoree's connection to our work. Each award, like Emma and her fellow Play Like a Girl Honorees, is one of a kind.

At graduation, Emma will receive honors as a member of the National Honor Society—finishing in the top 10% of her class. This academic distinction is determined by the cumulative grade point average earned at Oakland. She is the recipient of the Dan and Melanie Mays McGill Fellowship, the most prestigious academic award available to incoming first-year and transfer students who enroll at Maryville College.

With support from our dedicated and passionate network of monthly donors whom we call our SQUAD, Emma's Play Like a Girl Honors award included a $2,500 scholarship to cover book expenses left over after the McGill scholarship is applied. It is our hope that this modest scholarship will remove any remaining barrier to Emma successfully completing her first year of college, keeping her in the game and winning for years to come.
Emma has been an elite golfer throughout her time at Oakland. She has played varsity for four years, and ended her final season as the 2022 Regional Golf Champion. But, of course, that's only the beginning of this young woman's story.
In addition to being a stellar student-athlete, Emma is serving and shaping the world as a leader in the classroom, on campus and in her community. She led her team in her final season of golf. She is also an active member and leader of several student organizations including Fellowship of Christian Athletes, Big Brothers Big Sisters, and Best Buddies. 
The past several years, Emma has taught golf basics to Play Like a Girl participants and recently joined our team as an intern supporting our girls and staff in incredible ways. 
"I love teaching golf to other girls, and I'm so honored whenever I get to introduce beginners to the sport," she said. "I feel great knowing that I can play a part in other young ladies' journeys to fall in love with golf—just like I have."
Play Like a Girl congratulates Emma and her family on this historic and well-deserved opportunity. We were excited to witness her final season as an Oakland Patriot and are eager to support her on her new journey as a Maryville Scot!
About Play Like a Girl Impact Stories
Play Like a Girl is at the forefront of the drive to level the playing field for girls because we envision a world where all girls have the confidence and opportunity to become unstoppable women. Towards that end, we endeavor to leverage the skills girls gain from sport to help propel young women into competitive, male-dominated careers in science, technology, engineering, and mathematics (STEM).
Our impact stories series illustrates the human impact of Play Like a Girl's work across the United States and the world, often highlighting the donors and partnerships that make this work possible. These stories share how we and our many supporters  are working to realize a better world for girls and women—one of equity and empowerment because that is what we do and who we are, as a leader, connector, and provider of programs.
Stay in the loop by subscribing to our email list.
keyboard_arrow_leftPrevious
Nextkeyboard_arrow_right