In the sports world, there are many stars. Although the most recognizable ones may be the athletes, the ones who shine the brightest are often not athletes at all, at least not professionally. They are the ones who work behind the scenes–those who coach, who innovate, who teach and who inspire all of us to game changers.
We are thrilled to recognize some of our local stars at the upcoming Play Like a Girl Honors Gala on Monday, November 26 at Marriott Hotel Cool Springs in Franklin, Tennessee. These extraordinary people were chosen for their example and impact on the health, confidence and leadership skills of girls everywhere. In short, they've shown us how to change the game.
Introducing the 2018 Play Like a Girl Honorees
Bart Brooks – Most Valuable Player Award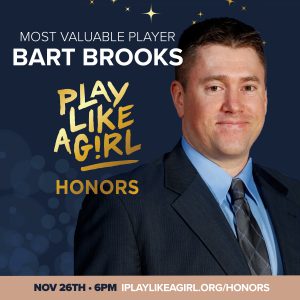 Bart Brooks is in his second season as head coach of the Belmont University women's basketball program after leading the Bruins to a 31-4 overall record in 2017-18, its best since 1993-94. The success earned the program its first national ranking in the Associated Press Top 25 and Bart the Ohio Valley Conference Coach of the Year as well as Spalding Maggie Dixon NCAA Division I Rookie Coach of the Year. Bart previously spent 11 seasons at DePaul University during which he coached six WNBA draft choices and had nine teams in the Women's Basketball Coaches Association (WBCA) Team Academic Top 25. Bart has a master's degree in Sport Management from Barry University (FL), where he began his coaching career. He and wife Charlene Smith, who played for the WNBA Houston Comets, have two sons, Trey and Tyler.
[bctt tweet=""Our success is never about me as a coach, it's all about the toughness and leadership of the young women in our program. They are the true recipients of this award, and they are the reason for the success of our program."–Bart Brooks" username="iplaylikeagirl"]
Game Changers:
Favorite way to play? "With my sons in the backyard—football, basketball, baseball, soccer, tag–it doesn't get better than that!"
How has sports impacted your life? "Sports gave me confidence in times of adversity. I was challenged constantly in sports, physically, mentally and emotionally pushed, and through all that adversity, I became stronger in all aspects of my life. Sports also taught me how to deal with conflict in a constructive way, how to work together with people to achieve more than I could ever achieve alone."
What woman in your life has influenced your work most? "My wife; she's the strongest, toughest, most intelligent, most thoughtful and gentle soul I've ever met. Her strength gets me through each day. I couldn't succeed in my work if she wasn't my support system. She has the ability to make me feel like our team is unbeatable and that I can do anything as a coach. She is everything to our family; raising our two boys much of the time alone while I'm on the road recruiting, and she does it with unbelievable patience and unwavering love. "
What characteristics helped your players achieve such great success? "Selflessness is a huge key; our players were always about the TEAM. They understood that we were always better as a five-person unit than any of us could have ever been as individuals. Their work ethic and intelligent discipline also set them apart from most teams. We always had players arrive early for practice, and stay late to work on their games.  And we took great pride in being intelligent on the floor, with the discipline to do what would lead us to success on and off the court."
Kenyatta Bynoe – Trailblazer Award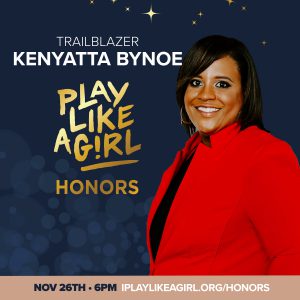 Kenyatta Bynoe is an accomplished sports marketing executive with a 20-year career as a thought leader that challenges conventional thinking and a solid track record of engineering innovative, 360-degree marketing strategy. In the past year, her accomplishments have earned her key industry awards including Adweek's "Most Powerful Women in Sports" and Sports Business Journal's "Game Changer." Kenyatta has a BS in Public Relations from Central Michigan University and a MS in Integrated Marketing Communications from Eastern Michigan University.  She currently resides in Nashville where she serves as Co-Chair of the Nashville Alumnae Chapter Public Relations Committee for Delta Sigma Theta Sorority, Inc. and mentors with Jalen Rose Leadership Academy.
[bctt tweet=""In the business world and in life you have any number of opportunities to share your thoughts, voice your opinion and impact change. My job is to find ways to make a difference on every field of play I'm connected to; offering advice, allowing young girls to learn from my mistakes, providing encouragement and stimulating the personal and professional growth of others."–Kenyatta Bynoe" username="iplaylikeagirl"]
Game Changers:
Female role models growing up? "Coaches, educators and business women inspired me more so by example than with words. I could see in them character traits that I wanted to emulate and levels of success I wanted to achieve. They helped me understand that much more was possible than I had imagined."
How has sports impacted your life? "Sports provided an early example of teamwork and camaraderie that has translated into every aspect of my life. In addition, sports provided a positive way to channel competitive energy and come together with teammates to pursue a common goal. One of the most valuable lessons I learned is the notion of work ethic and what it takes to "play" at a high level. There is no shortcut around the hard work necessary to succeed or the multiple times you may fall on the road to greatness. But all of this is what makes victory so sweet."
What does the Trailblazer Award mean to you? "It's special to me because it symbolizes making the pathway clearer for those who come after me. To be thought of as a pioneer, innovator or trendsetter in this regard means everything. As an African-American woman there are many obstacles that I face in life and in business. Some highly visible, and others, often the most difficult, are the battles I fight in silence. But I continue to fight because I know that young girls need examples of women who come from all walks of life–from humble beginnings, from disadvantage and from poor circumstances–who have overcome."
What personal traits help you succeed in sports marketing? "One of my personal philosophies is that there is no finish line. When approaching a goal, reevaluate it to determine how you can go to the next level. While you must find periods of rest and reflection along the way, don't become comfortable or stagnant. There is a degree of fearlessness required to excel, especially in male-dominated careers.  To other women interested in this career path; speak up, stand strong on your position and back it up with data and skill. Most importantly, don't let rejection of your ideas be fuel for quitting, let it motivate you to go harder the next time."
Sammie Griffin – Corporate Partner Award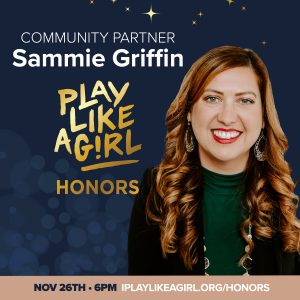 Sammie Griffin is an Assistant Vice President Treasury Management Sales Analyst at Wells Fargo Bank. She is a graduate of the University of North Alabama with a BBA and an MBA. Sammie currently resides in Brentwood, TN with her eleven-year-old son, Landon. She is passionate about giving back to her community and serves on the Advisory Board and Homeowner's Selection Committee for Habitat for Humanity of Greater Nashville as well as the Board of Directors for Distinguished Young Women of Music City. She is also President of the Wells Fargo Nashville Volunteer Chapter where she was first introduced to Play Like a Girl. Wells Fargo volunteers now partner with Play Like a Girl to teach financial literacy lessons.
[bctt tweet=""I love being able to empower and encourage other females. The older I get I understand more and more how important it is for young girls to have someone on their side, motivating them and reminding them that they can do it and they are worth it."–Sammie Griffin" username="iplaylikeagirl"]
Game Changers:
Favorite way to play? "Dancing and moving freely fills me with so much joy. Now as a boy mom, I've been able to venture out into other sports or "play" that I'm not as familiar with but enjoy just as much such as waffle ball and kayaking."
Female role model growing up? "My mom. She is one of the most selfless individuals I've ever known. Her love for me and her family allowed me to always feel safe. She always encouraged me in anything and everything I wanted to do."
How has sports impacted your life? "I was a part of a competitive cheerleading team my junior and senior year in high school. This showed me how to work with others and also how to resolve conflicts. It allowed me to build close bonds with young women who shared the same passion as me. It gave me self-confidence, made me want to be my best self–and whether I succeeded or failed–I had my team to lift me up or celebrate. I learned that if you really want something; with hard work, you can achieve or obtain it. These things shaped me into the person I am which has led me to where I am in my career."
Why is it important for girls to understand money?  "Statistics show spending habits start developing at age seven. That's crazy to think about, but basic knowledge on managing money and understanding credit cards and loans could ultimately be the difference between thriving after high school into college and work or falling into a financial hole. I wish someone had taken the time when I was younger to teach this to me. I personally had some tough financial experiences because of poor decisions I made from lack of education."
Paula Hood – Corporate Partner Award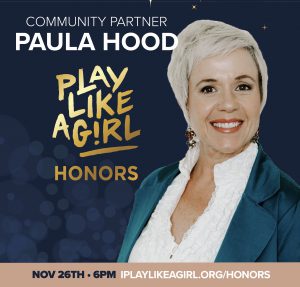 Paula Hood has an extensive background in banking and finance with a Fortune 50 company and over two decades of combined experience in onboarding, developing new talent and community outreach. She has taught in the professional classroom and in school systems across the country delivering training that prepares employees and students for career and financial success. First introduced to Play Like a Girl at a community fundraiser for Junior Achievement, she has since volunteered to provide financial education to young girls, coupled with the motivation to stay active and healthy throughout life. Although not fortunate enough to participate in sports as a young girl, she's proud to be an example of how physical fitness and education can open doors to a future that once seemed out of reach.
[bctt tweet=""The value in staying active, being part of a team goes beyond exercise to learning how to get along, to network at an early age and to know you do have opportunities out there, you may just not know about them yet."–Paula Hood" username="iplaylikeagirl"]
Game Changers:
Favorite way to play?  "Running is my therapy. I used to weigh 130 pounds more than now; that's when I was diagnosed with Multiple Sclerosis (MS). I realized I was just surviving, not living and needed to make a change. I started looking at fun ways to get moving like belly dancing then I joined a walking group. One day I thought 'why don't I run to that mailbox?' I tried it, made it and then began to set goals for myself until I could run a mile. Now I'm running half marathons."
Female role model growing up?  "My mom. She worked three jobs at times to make sure my sister and I were taken care of. My parents divorced when I was nine and my dad was very present if my sister and I needed anything ourselves, but mom was independent and determined to keep a roof over our head herself. She was just doing what she had to do; that's the era she came from. I've never known anyone to work that hard and I'm not sure she understood the impact that had on me."
Advice for girls with similar health diagnosis? "For me when I received my diagnosis, I was so afraid if I stopped going, what if I couldn't start again? That's when I really became active, to experience it while I could. Then I realized this is what I've been missing, so I try to share how physical activity can affect quality of life, prolong a more positive state and perhaps even help as a preventative measure. My previous doctor was always shocked I could be so active; I'd even wear high heels to my appointments to say, 'See, I'm still walking!'"
What impact do you want to make? "I, as an adult, hid my diagnosis for 14 years for fear of how people would react. Imagine a kid dealing with this situation. I want them to see if you're battling something, whether physical, mental or emotional, there is a role model out there. And there is strength in sharing your story. You're struggling yes, but imagine the people you can help if you're brave enough to say 'Look at me doing these things they said I'd never be able to do.' We need more of that."
Kenisha Rhone – Volunteer of the Year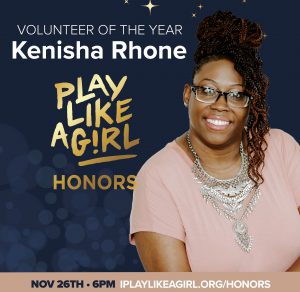 Kenisha Rhone is Director of Digital Media & Social Strategy at Belmont University. She is heavily involved in numerous professional organizations as well as in community service throughout Nashville. Kenisha is a member of Delta Sigma Theta Sorority, Inc., serves on the Greater Nashville Susan G. Komen Race for the Cure steering committee and volunteers frequently to speak to youth groups including the Girls Scouts of Greater Nashville. Previous roles include serving as Sports Information Coordinator at Tennessee State University and as an Athletic Communications Assistant at the University of Pennsylvania. Kenisha began her career in sports through internships with the St. Louis Sports Commission and the St. Louis Gateway Classic before working in media relations for the St. Louis Rams during their successful Super Bowl XXXIV run in 1999-2000.
[bctt tweet=""Too often we're told, 'You can't do that, you're a girl.' I had those moments; I remember them, we all do. But what can we do to change that narrative in the lives of girls? That's why I do this, to see faces light up when they say 'I did it.' I have known and seen this life changer for girls and believe so much in this vision."–Kenisha Rhone" username="iplaylikeagirl"]
Game Changers:
Female role model growing up? "I'm from St. Louis it was Jackie Joyner-Kersee for me. Seeing her do things in the Olympics I never thought people could do; then to see her doing a camp, building a community center in East St. Louis; that made her real. The idea of giving even when you have more than enough, impacted me. I met her once and told her that. She said she wasn't doing it for the accolades but because it needed to be done; other kids needed the opportunities she was given. It's always about paying it back."
How has sports impacted your life? "My parents were both athletes and growing up around sports it never occurred to me there was a lack of opportunities when I was young. That said, I was visually disabled and while my parents allowed me to play some, not having depth perception and trying to figure out how to play in my own way was tough. I didn't look disabled so it was difficult to get teachers, instructors to understand that I needed some special accommodations. That, plus my parents being terrified I might get hurt and go blind almost made me not want to play. We compromised and I did just about every non-sport-related activity."
What influences your work at Play Like a Girl? "I wasn't the first and won't be the last little kid with a disability so I'm always on the lookout for those playing slightly different. I see it because I did that myself. I'm always conscious of kids who want to play but can't figure out how because they either don't have the ability to say or admit something's wrong, they don't feel safe enough to say it or don't have an adult to advocate for them. If they want to play we need to figure out how to get them in the game, period."
What this experience taught you about yourself? "It reminded me of young disabled me. Being a pre-teen is awkward enough without navigating a disability. It's very difficult mentally so you can't imagine the level of empathy I have for kids in that space. To pull these kids aside and say 'Let me show you how I did this, have you thought about doing it that way?' I remember wanting someone to say that. It's often small considerations that just take five minutes extra to think about. They need a voice to say, 'It's ok to do it a different way and I will help you.' Because to play is the most important part."
To meet our Honorees, join us at the Honors Gala. The event will feature a cocktail hour with open bar, passed hors d'oeuvres, live music, red carpet and more. Get your ticket today!
Follow the event on Facebook for updates and other information.
Stay in the loop by subscribing to our email list.
keyboard_arrow_leftPrevious
Nextkeyboard_arrow_right