Morgan Prater and employee volunteers lead Meet + Mentor Tulsa powered by Academy Sports + Outdoors 
Play Like a Girl's Meet + Mentor events are ongoing celebrations to shine a light on empowering women role models in an effort to inspire young girls to explore their limitless potential while learning about incredible women who helped pave the way for them.
We know that girls can't be what they don't see. That's why we see role models as essential in a young woman's life. Role models also are critical to breaking stereotypes and challenging barriers to gender equality. In most cases, role models are accessible family members, teachers, neighbors, and even strangers who directly build the aspirations and ambitions of girls and young women at every stage of their education and career paths. 
As a key part of our ongoing work, we leverage our Meet + Mentor program to introduce middle school girls to women from all walks of life to show them they can be and do anything they can imagine. On June 29, a highly motivated and vivacious group of middle school students took part in the debut Meet + Mentor day camp powered by Academy Sports + Outdoors at Zebco, a fishing rod and reel manufacturer and product testing facility in Tulsa, Oklahoma.
Inspiring local girls to dream bigger, Zebco was transformed into a mentoring lab designed to encourage students to pursue a future in science, technology, engineering and mathematics (STEM). Starting with a Lizzo-inspired welcome and girl power playlist blasting in the background, Zebco employee volunteers accompanied the girls through special fishing-related activities designed to show students the unlimited possibilities in sport and STEM, stressing the fact that STEM is everywhere and is in everything.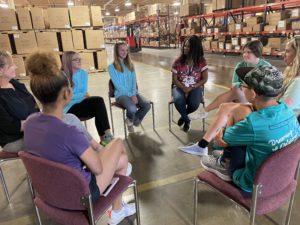 Our CEO Dr. Kim led an interactive confidence-building experience to help girls tap into their own ingenuity and creativity. A panel discussion featuring accomplished women in the fishing industry followed.
After breaking into small groups for a more in-depth mentoring moment with the panelists, students had an opportunity to work with a role model during a hands-on working session where they designed their own paper boats and, later, tested them for buoyancy (or the ability to float in water).
In addition, the Zebco testing lab was used to introduce students to the design and testing of fishing reels, rods and other accessories.
To bring it all together, the girls enjoyed a short chartered bus ride to Oklahoma Aquarium for a fishing expedition with former collegiate athlete and fishing guide Morgan Prater and volunteers from the Oklahoma Department of Wildlife Conservation.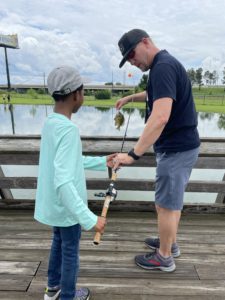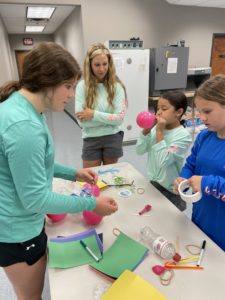 The Meet + Mentor events are ongoing celebrations to spark participants' interest in sport and STEM, while inspiring their limitless potential, and bringing together Academy employees, brand ambassadors and corporate volunteers.
Participating students will be featured in a three-part YouTube series showcased across Academy's social channels late this summer.
The next event will take place in Memphis on Tuesday, July 6.
Stay in the loop by subscribing to our email list.
keyboard_arrow_leftPrevious
Nextkeyboard_arrow_right