This summer, Play Like a Girl has an excited and dedicated intern working to support our staff in incredible ways. She will help us execute virtual programs, curate content, work with our supporters and so much more. Needless to say, she's a crucial part of the Play Like a Girl team. Meet our phenomenal summer intern, Hanako Batt.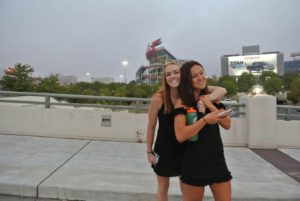 Hana Batt
Hometown: Natick, Massachusetts
School: Vanderbilt University
Major: Psychology
How has sport impacted your life?
I started swimming for my summer league when I was six years old and fell in love with the community and camaraderie of it. In middle school, I began swimming year round,leaving soccer and field hockey, as it had become my favorite sport. The unconditional support from my team and amazing role models that I had the privilege of being surrounded by in and out of the pool pushed me to embrace challenges, maintain optimism, and lead through action, ultimately bringing me to Vanderbilt University. My incredible teammates here demonstrate every day what it means to give one hundred and ten percent in the water, in the classroom, and as a person. In my two years here so far, I have been inspired, challenged, and encouraged to be my best self in a way I cannot imagine without swimming. 
What is a typical day like for you as a student-athlete?
Typically, I wake up at six AM for morning practice, usually eating a snack while heading over to the pool. At eight thirty, when we finish swimming, I rush over to the locker room/athletic facility to change for class and eat breakfast in the dining hall there with my team. Around ten, I have my first of two or three classes of the day. After class, at one PM, I grab a quick lunch, on the way over to the athletic facility for our team lift and our second swim practice of the day. When that's over, I usually stay in the athletic facility, heading over to the academic center to meet with my advisor and go over my workload for the week and do some homework or attend a tutor session. At five thirty PM, I head over to the dining hall to eat with my teammates. Afterwards, I either go to the library or back to the academic center to finish up studying, or else back to the dorms to unwind until around nine thirty, when I usually go to bed after some meditation or journaling. 
What aspect of your sport do you enjoy most?
The team aspect of swimming is 100% my favorite part. There is no way that we could push through the grueling workouts and bring the energy that we do to competition without the unwavering support of each other both in and out of the water. Whether we are dancing crazily around the pool deck before a race, singing at the top of our lungs in the locker room, or studying together for an exam, the love and support for one another is felt. I know I will always belong to this community of empowered, motivated women, and I am so thankful for that. 
How does science, technology, engineering and math intersect with your sport?
Swimming is an extremely technical sport. Everything from what we wear to the angle we put our hands into the water is based on precise calculations to maximize efficiency and minimize drag through the water. Our racing suits, caps, and goggles are designed with all that taken into consideration and we spend time learning about the physics at play when making changes to our technique. Also, calculating time intervals and counting laps in our heads during each practice tends to be a math challenge in itself!
If you could trade your uniform for any job for just one day, what would it be and why?
If I could, I would trade my swimsuit to be a summer camp counselor for a day. I love spending time with kids (sometimes I feel like I'm still one myself!) and getting to participate in summer camp activities, as I did growing up. I volunteered at a day camp for a few summers in high school and had a blast making friends with, entertaining, and helping all of the campers each session.  
What one piece of advice from a coach do you live and play by?
One piece of advice from a coach that has resonated with me over the years is 'fall in love with the journey, not the destination.' He reminded me of this constantly during a season in which I had set a lot of lofty goals for myself. Reminding me to simply have fun with my teammates each day and find satisfaction in swimming a practice well, rather than searching for those things in the far-off, potential future kept me in touch with why I fell in love with swimming to begin with. I ended up accomplishing every single goal I had set for myself that season, while also having the most fun ever. I embody this mindset in all aspects of my life, reminding myself that I can be genuine in what I choose to spend my time doing. Finding joy in what you do each day, will give you more drive and stamina to accomplish your goals than anything else could, and realizing that definitely changed the way I approached school, my relationships, and everything else. 
What's on your pre-game (meet) playlist?
Beyoncé is definitely my go-to for behind the blocks. Really anything upbeat and hype will get me going — DaBaby and Trippie Redd are some of my other favorites. My team also loves blasting EDM on our speakers during warm up to set the mood. 
Want to be a part of the next class of interns at Play Like a Girl? You're in luck; fall internships just went live! Apply here today.
Stay in the loop by subscribing to our email list.
keyboard_arrow_leftPrevious
Nextkeyboard_arrow_right